The Mystic Awakening - Book Intro
You are destined to bring heaven to earth!
This is not another book on post biblical saints who moved in mystical power, it is instead a strong biblically based guide for embracing the timeless ancient paths today. This book is a must read for anyone who wants to move on from the church age to see the kingdom manifest today (236 pages).
Read this book if you are interested in exploring
heaven before you die
the Ancient Paths into the eternal realm
the untapped truths of speaking intongues from the Old Testament
the mystic roots of Enoch, Abraham, Moses, Elijah and Elisha
the mystic journey to maturity
---
The Lost Kingdom
This book takes you beyond the rhetoric to better understand the foundation and workings of the kingdom Jesus established. It is here today and awaiting your entry. Because environment is the shaper and harbinger of identity it is essential for us to ruminate on the realities of this new kingdom to fully activate who we are 'in Christ'.
This book is your invitation to make the transition from 'doing church' to 'living the kingdom' in Christ.
Chapters include:
Between Two Worlds
The Strength of Revelation
A Kingdom of Sons
Beyond Time
The Kingdom Masterclass
The Presence of God
Two Kinds of Righteousness
An Invitation to Sonship
For Many are Called...
Building a Framework
Endorsements:
'If you are ready to step beyond the borders of status quo Christianity and into the world of the kingdom this is a must have book.'
Charlie Shamp
'This forerunner book...takes its readers on a revelatory journey into seeing the kingdom everywhere throughout the Word of God.'
Phil Mason
'I believe Adrian is one of the prophetic voices who has a unique assignment to call the church to see all of life through kingdom lenses.'
Andrew Magrath
---
The Divinity Code to Understanding your Dreams and Visions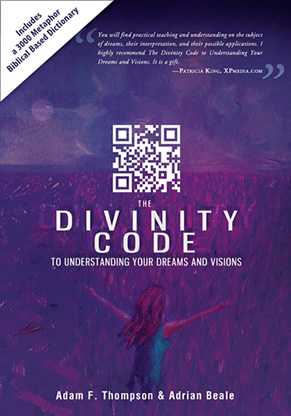 Stop wondering what your dreams and visions mean—and start living the meanings!

The Divinity Code to Understanding your Dreams and Visions is a Bible-based guide to dream interpretation that reveals the mysteries of the Kingdom of Heaven.

With this set of Master keys, you can unlock the unseen realm! Led by the Holy Spirit, you can manifest God's Kingdom on earth through Jesus Christ by knowing what your dreams and visions mean.

The Divinity Code to Understanding your Dreams and Visions contains:
The most extensive Christian dream dictionary on the market (with Scripture support).
An important dictionary of names and places.
A critical chapter on counterfeit interpretations by the occult.
101 interpreted dreams providing credible evidence.
A fascinating metaphor dictionary.

Embrace your supernatural communications with God and go deeper into the things of the Spirit—today!


---
Unlocking what god is saying while you sleep